How to Improve Lesson Plans
How to Improve Lesson Plans
If you'd like to improve lesson plans . . .
Just ask your students how they feel.
The surprisingly simple details are below, but I can attest this process works (it's the same one we use to improve the Experiential Entrepreneurship Curriculum).
Step 1: Ask Your Students How They Feel
At the end of each lesson or exercise, simply ask your students how they felt about it.

From our experience, surveying students about their feelings provides more actionable feedback than a question like "On a scale from 1 to 5 how would you rate…?".

Here are the specific questions we students ask after every ExEC exercise: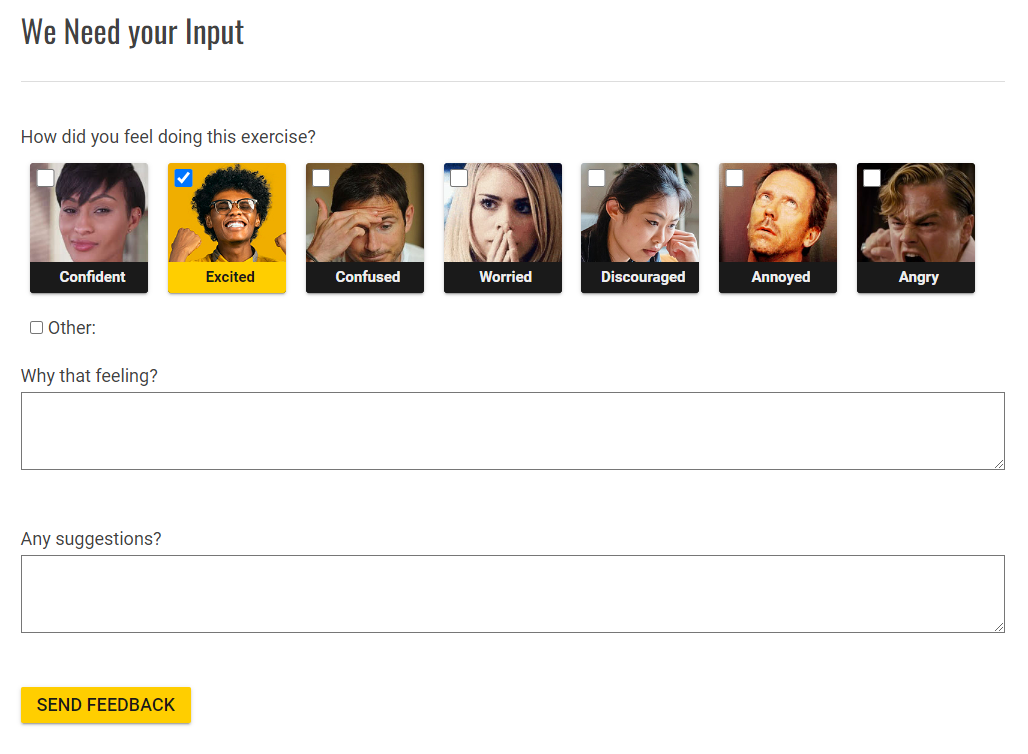 We get better results by asking emotionally-based questions because:
It's easier for students to check boxes indicating their feelings than it is for them to score an exercise on an arbitrary number scale.
 
We care as much about the "why" behind their rating as we do about the rating itself. From our experience, students provide more in-depth answers to why they have a feeling than why they gave something a numeric rating.
Step 2: Analyze the Data
Once your data comes back, patterns will emerge.

For example, this data from Fall 2021 shows how ExEC students felt after completing their first exercise:
While the majority of students felt excited and confident about the assignment, 18% of them felt confused, which provided an opportunity for improvement.

After reading why those students felt confused, we hypothesized adding a video that showed students how to turn their assignments in might reduce their confusion.
Step 3: Implement Improvements
In our case we created a video demonstrating how to submit ExEC assignments on each of the major LMSs (e.g. Canvas, Blackboard, Moodle, D2L).
In your case, you'll implement solutions informed by your students' surveys. After that, you can simply ask your students for their feedback again so you can . . .
Step 4: Compare the Before Data 
In our case, the impact of the new video was immediate. By Spring of 2022 . . .
We saw student confusion cut in half, while excitement and confidence continued to rise.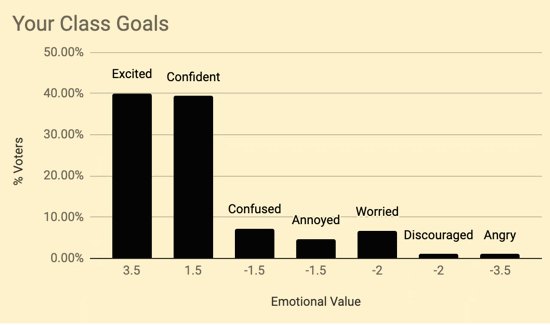 The best part is, you can use these four steps to improve just about anything related to your course.

Just ask these two questions:
How did you feel doing this?
Why that feeling?
And you can improve the quality of a specific lesson, a homework assignment, or the course overall. 
---
And now it's your turn:
How did you feel about this article?
If you'd like to feel confident you're using a curriculum that is continuously improving, check out the Experiential Entrepreneurship Curriculum.

We practice what we preach to ensure you and your students have the most engaging experiences possible.
---
Teaching Entrepreneurship AI Summit
Register Now!
Coming Soon…
We will be sharing more engaging exercises like this one!
Subscribe here to get lesson plans delivered in your inbox.